Malaysia Lighthouse Program by MIDA
Malaysia Lighthouse Program by MIDA
---
The World Economic Forum (WEF) in collaboration with McKinsey launched the Global Lighthouse Network in 2018, a research collaboration to bring together the most advanced factories in the manufacturing world for a cross-company learning journey.
MIDA has taken a proactive step to embrace an innovative initiative by introducing Malaysia's Lighthouse Project", a concept of modelling companies that have embraced digital manufacturing and globalisation 4.0 in their business model and their entire supply chain. In general, the Lighthouse Project consist of industry players that have taken 4IR/Ind4.0/Smart Manufacturing technology from pilot to integration at scale, thus achieving significant financial and operational benefits. 
The term "lighthouse" denotes that these factories can act as beacons to guide their supply chain and others that are still looking to apply technologies like artificial intelligence, additive manufacturing and advanced analytics as well as overcome challenges in upgrading existing production.
MIDA envisions for Malaysia to have our own model factories to be recognised as our "Lighthouses". Through this, we will embark on a unique learning journey that will benefit Malaysia's production ecosystem.
The objectives of the Lighthouse initiatives by MIDA are to:-
– Drive the Industry 4WRD initiatives towards reality;
– Reposition Malaysia to be among the top Global Manufacturing nation with the latest technology adoption and innovation;
– To assist existing sector to become a Lighthouse.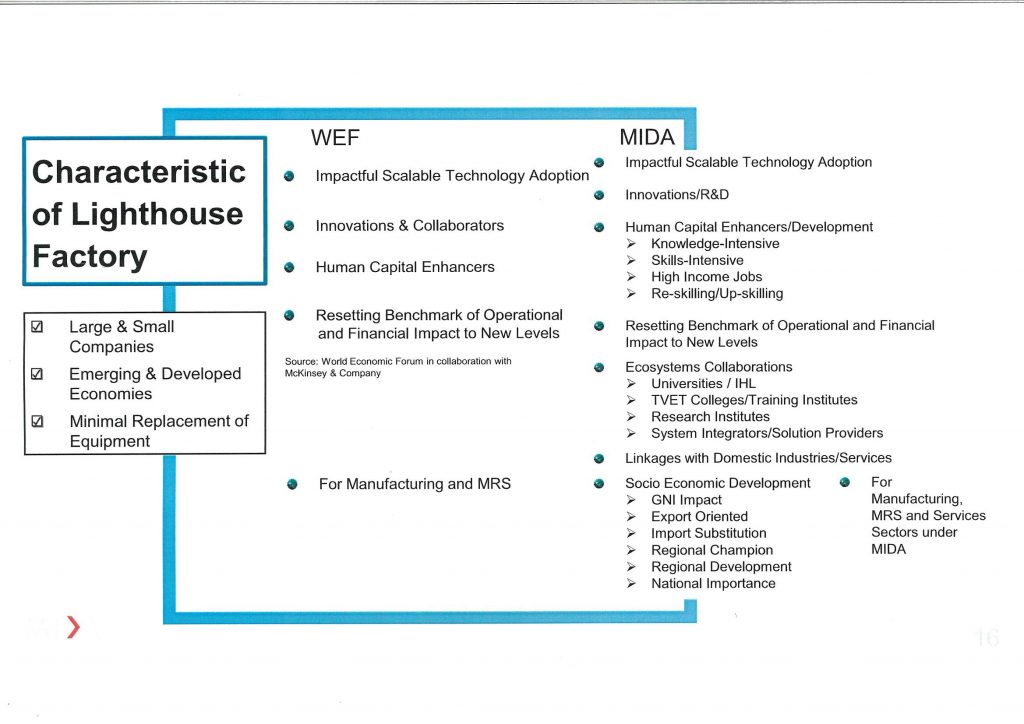 Benefits of Lighthouse Model
-Technology can create a better, cleaner world through new levels of efficiency in manufacturing;
-It provides not just incremental but rather, a step change in resetting benchmarks for operational and financial key performance indicators (KPIs);
-Address rapid emergence of ecological constraints, balancing global resource consumption against availability, avoiding challenging impacts on ecosystems, human health and well-being associated with global climate change;
-Successful companies will act as beacons to guide the others projects/companies in Malaysia in transforming and overcoming challenges in upgrading existing production systems.
Source:  Malaysian Investment Development Authority (MIDA) – www.mida.gov.my
---
Appended below is the Malaysia Lighthouse Project guidelines for your information.
---
Contact Details on Malaysia Lighthouse Program 
Mr Norhizam Ibrahim
Director
Advanced Technology and Research & Development Division
Malaysian Investment Development Authority (MIDA)
MIDA Central
No. 5, Jalan Stesen Sentral 5
Kuala Lumpur Sentral
50470 Kuala Lumpur
tel: +603-2267 3633 (Gen)/ +603-2267 3628
Fax: +603-2274 7970 (Gen)/ +603-2272 1779
Email: norhizam@mida.gov.my
Website: www.mida.gov.my