Diary of Events
(1)  MITI Consultative Dialogue 2019
---
The Ministry of International Trade & Industry (MITI) launched the Consultative Dialogue 2019 on 12 September 2019 at the Perdana Hall with the theme "Rebuilding Malaysia Together"- Strengthening Synergies between Government and Industry.  MITI will reflect on the Government's policies for the last ten years to rethink Malaysia's trade, investment and industrial development policies.
Prior to the Launch, MITI had invited the national and international Chambers of Commerce, business and industry Associations in Malaysia to provide feedback on the issues faced in respect of the business operations of their members and suggested solutions (if any).  
At the Launch, MITI Minister YB Datuk Darell Leiking informed that 54 memorandums highlighting 379 issues were submitted by 108 associations to MITI.  There were 12 main clusters
-Investment
-Market access
–Technology
-Labour/ workforce / talent
-Taxation
-Facilitation
-Logistics / infrastructure
In view of the many issues raised, there was a month-long consultation with the relevant industry groups.
YB Dr Ong Kian Ming gave a briefing at the launch.  The presentation slides are attached below.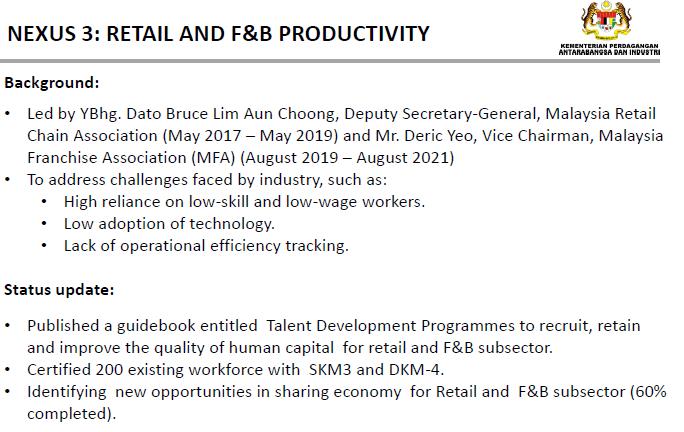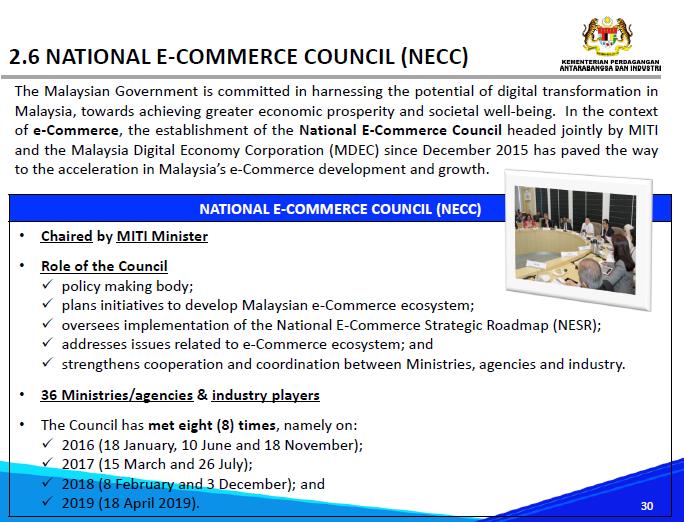 The launch of the MITI Consultative Dialogue was followed by a month-long one-on-one engagements with the 108 business associations and Chambers of Commerce.
Following the month-long engagements with MITI, a town-hall session over one and half days was held on 15-16 October 2019 at MITI. 
On 15 October 2019, YB MITI Minister, YB Deputy MITI Minister, top officials of MITI and senior representatives from the relevant government ministries were present to dialogue with the industry groups.
On 16 October 2019, a Joint Ministerial Dialogue Session was held with the attendance of Ministers and Deputy Ministers from Ministry of Health, Ministry of Primary Industries, Ministry of Energy, Science, Technology, Environment & Climate Change, Ministry of Entrepreneurship Development, Ministry of Domestic Trade & Consumerism and senior officers from other Ministries and Government Bodies.
Contents of the Joint Ministerial Dialogue Session
| | |
| --- | --- |
| Ministry | No. of Issues |
| Ministry of International Trade & Industry (MITI) | 3 |
| Ministry of Primary Industries (MPI) | 5 |
| Ministry of Energy, Science, Technology, Environment & Climate Change (MESTECC) | 6 |
| Ministry of Health (MOH) | 3 |
| Ministry of Human Resources (MOHR) | 3 |
| Ministry of Home Affairs (MOHA) | 2 |
| Ministry of Finance (MOF) | 6 |
| Ministry of Water, Land & Natural Resources (KATS) | 1 |
The Business Associations and Chambers of Commerce were encouraged to meet with the relevant Government bodies to work out possible solutions to the issues raised.
---
(2)  Seminar on Trade & Investment Opportunities in 8 African
     Countries" on 15 October 2019 at MIDA, Kuala Lumpur
---
MIDA organised a "Seminar on Trade & Investment Opportunities in 8 African Countries" on 15 October 2019 at MIDA's office.  This event was held in conjunction with the "Third Country Training Programme: Investment Promotion for African Countries".  This training programme is sponsored by MIDA, MOFA and JICA.
Eight countries namely Cameroon, Ghana, Zimbabwe, Tanzania, Lesotho, Rwanda, Uganda and Benin participated in this Seminar. The representatives of these countries comprised senior Government officers that were empowered to promote and facilitate Foreign Direct Investments into their respective countries.
More than 100 Malaysian enterprises attended this Seminar.  It was a valuable opportunity for the Malaysian companies to meet these senior officers and to learn about their country and the potential to do business in sectors promoted by their Government and the range of investment facilitation that they can offer to potential foreign investors who seek to invest in their countries.
---
(3)  Courtesy call by Mr Amr Abdel Halim, Minister
      Plenipotentiary Commercial, Embassy of Egypt
      to MASSA on 22 October 2019
---
Mr Amr Abdel Halim, Minister of Plenipotentiary Commercial of the Embassy of Egypt, Kuala Lumpur visited MASSA on 22 October 2019.
The Egyptian economy remains vibrant  and  glowing  at  a  healthy  GDP  of 5.6%   (FY 2019).  The Government of Egypt successfully implemented a first wave of macro-economic and structural reforms that successfully addressed a number of deep-seated issues and helped to stabilise the economy, sustain growth and lay the groundwork for more dynamic private sector participation in the economy.
More news and information on Egypt will be forthcoming.
---
(4)  Meeting with MAPE and Expomal International Sdn Bhd
      on 1 November 2019 at MASSA Secretariat 
---
Ms Ng Su Fun, Executive Secretary MASSA and Ms Florence Khoo, Asst. Executive Secretary met Mr Ismael Nabe, Vice President/Co-Founder, Malaysian African Professionals & Entrepreneurs (MAPE) and Mr Jway Chan, Chief Executive Officer, Expomal International Sdn Bhd at MASSA.
Issues discussed at this meeting were on organised activities and events for MASSA members.