Country Argentina – Why Look At Argentina For Business Opportunities?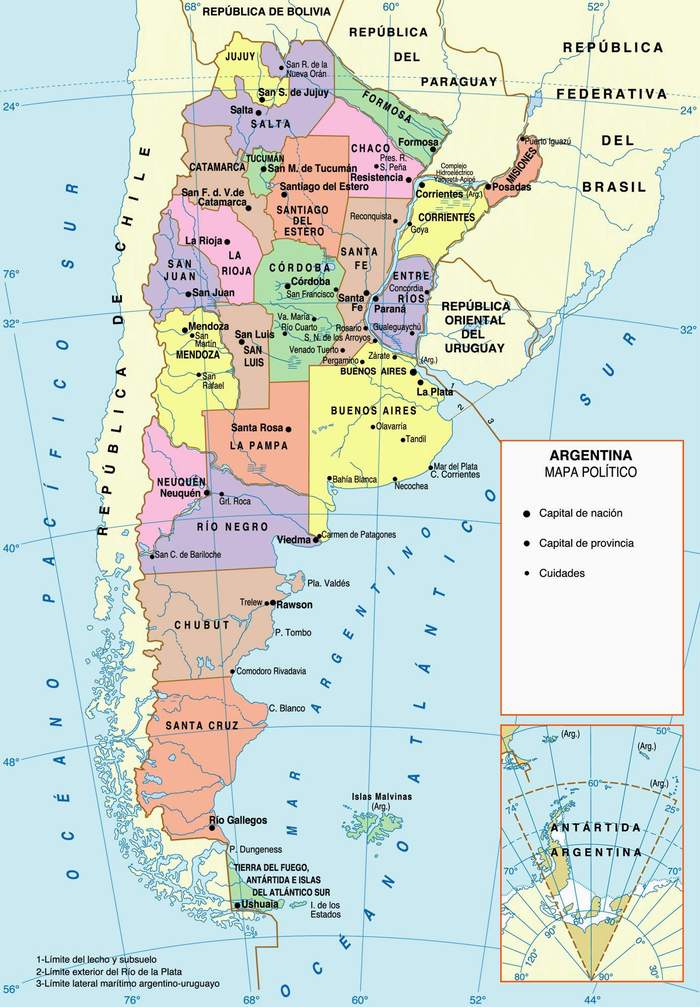 Map of Argentina
---
New Economic Environment
The Argentine Republic established diplomatic relations with Malaysia in 1967 and, since then, from intense political and multilateral ties and increasing trade volume and investment both countries have managed to build a strong and fruitful bilateral relationship.
Considered the tallest twin building in the world, not many people know that the PETRONAS Twin Towers were designed and completed in 1998 by an Argentine architect, César Pelli, and that since then they stand not only as a cultural and architectural icon of Kuala Lumpur, but also as a symbol of friendship and understanding between our countries.
When President Mauricio Macri was elected in December 2015, he outlined a clear plan to integrate Argentina to the world. In his first two years in office, the President took several important measures not only to normalize the economy, but also to rebuild trust and confidence in the country.
Some of these measures include: lifting currency restrictions, reaching an agreement with holdout creditors, lifting restrictions to capital inflow/outflow, returning to the international capital markets, removing or reducing export duties, gradually removing import restrictions, correcting exchange rates and subsidies, and reestablishing relations with countries that have traditionally been Argentina's business and political partners.
The message is clear: Argentina is determined to normalize its economy and consistent in regaining political leadership, not only in the region but also amongst emerging markets.
Historically, Argentina´s investment case has rested on its abundant natural resources, talented and educated labor force, strong infrastructure, large middle class and a gateway position in the region.
This time around, with the Argentine government's main objective of Zero Poverty, it is vital that we go one step further. We must attract genuine investment, which in turn creates more and better quality jobs. But we also need to attract the world's best know-how across all sectors, to ensure continuous and sustainable growth. That's why we are inviting companies and investors from all over the world to participate in this process and become a protagonist of this new era for our country.
Argentina is Latin-America's 3rd largest economy in terms of Purchasing Power Parity. In 2017 its GDP reached USD 586 billion, with GDP per capita at USD 13,500 (USD 22,500 in PPP terms). In the last 12 years (2005-2017) Argentina´s compound annual growth rate was 3.4%.
Argentina has a highly diversified economy. The primary sector is internationally renowned for its high productivity levels and use of advanced technologies. Key sectors in Argentina's developed industrial base are agribusiness, automobiles, pharmaceuticals, chemicals and petrochemicals, biotechnology and design manufacturing. The service sector is the largest contributor to total GDP, accounting for over 50% of the total.
Argentina is a leader producer of foodstuffs: the third worldwide producer of soybeans, soymeal, soybean oil and corn, the fourth largest producer of sunflower (seed, meal and oil) and sorghum, the seventh largest producer of barley, and the twelfth producer of wheat.
We boast the world's fourth-biggest shale oil reserves, and the second-biggest shale gas reserves. Other valuable natural resources include gold, copper, lead, zinc, lithium, natural borates, bentonite, clays and construction stone.
The leading industrial sectors in terms of gross value of production are: food processing, beverages, chemicals and pharmaceuticals, motor vehicles and auto parts, coke fuel, oil refining, and nuclear fuel manufacturing.
With respect to services, sectors with the largest share in gross value added include wholesale, retails and repairs; followed by transport and communications. The service sector leads the labor market as the largest job creator.
Except for 2015, the trade balance has been positive since 2002. In these 15 years, exports have shown a 240% increase in nominal US dollar terms. During the same period, imports have increased by 680%.
Argentina's main trade partners (imports and exports) are Brazil, China and the United States.
Historically, Argentina has had a negative balance of trade in terms of services. Notwithstanding, two categories have a positive balance: a) business, professional and technical services; and b), computer and information services. Recent years have seen a strong consolidation of export-oriented services, mainly due to Argentina's highly-skilled human resources.
Over the last twelve years (2005-2017) government income has been stable at around 21% of GDP. Taxes account for half of this, social security for a quarter and capital resources, property income, current transfers and sales of goods and services for the remaining quarter.
The share of national public expenditure in GDP increased from 18% in 2005 to 22% in 2017. More than 75% of expenditures are concentrated in three areas: salaries (15%), social security accounts (37%) and transfers to the private sector (24%).
In 2016, after more than 14 years, Argentina exited from default on its public debt. This has allowed the country to reduce risk and return to international capital markets.
The Central Bank of Argentina (BCRA, for its acronym in Spanish) is responsible for monetary policy. Its purpose is to promote monetary and financial stability, employment and economic development with social equity. The current exchange rate policy is a floating regime, and the BCRA is currently implementing a policy of inflation targeting.
There are no restrictions on foreign investment, except in some strategic sectors, such as telecommunications, defense and oil and gas. Most importantly, it is the new administration's policy that profits may be freely transferred, and the BCRA has eliminated previous restrictions but for those stemming from money laundering legislation (based on the FATF's recommendations).
The BCRA has also eased regulations on foreign ownership of Argentine entities which had affected the country's capital inflows and outflows. Today, foreign investors can fully own a company and operate in financial markets (listed shares included) without any form of prior government approval. It is now fair to say that Argentina enjoys a free foreign exchange market and that all capital flow restrictions have been lifted.
Extraordinary investment opportunities
Over the last decade, and despite a history of strong infrastructure, Argentina dropped 61 positions in the Global Report published by the World Economic Forum (WEF), to 122nd. This context allows for numerous investment opportunities, particularly given the country's renewed access to international capital markets.
In terms of transport infrastructure, national road and railway systems extend over 35,000 km, maritime connections operate through 43 ports, while air traffic connects to 54 airports. Argentina also has 40 port zones along its Atlantic coast.
We have one of the most dynamic mobile communications markets in Latin America and the third largest in the region after Brazil and Mexico. Mobile penetration is around 140% (2017). Although Argentina's broadband penetration is the third highest in Latin America, after Uruguay and Chile, its average download speeds, at about 5,5Mb/s, are relatively low for the region.
64% of Argentina's energy generation comes from conventional sources (gas & petroleum). The other 36% is a combination of hydropower (around 30%), nuclear energy (around 4%), mineral carbon, firewood, bagasse, vegetable oils, alcohol fuels, wind and solar energy.
Argentina has identified investment opportunities for approximately USD 260Bn across multiple sectors, both at federal and provincial levels. The country is therefore pleased to invite the foreign public and private sectors to join Argentinian investors and participate in the financing, engineering, development and operation of these opportunities.
The largest opportunities are found in energy & mining, transportation and infrastructure sectors:
-The current transportation plan is the most ambitious in the history of the country, offering USD 95Bn investment projects in roads, freight and passenger rail, ports and airports. It includes large urban mobility projects, such as the Regional Express Railway network in the Capital City of Buenos Aires.
-Energy and mining opportunities add up to USD 90Bn and comprise the development of the vast "Vaca Muerta" shale oil & gas reserves. Additionally, there are rich unexplored mining areas, as well as tenders for thermal, hydro and renewal energy.
-USD 60Bn in infrastructure opportunities encompass water & sanitation works, land irrigation systems and health & educational facilities.   
Additionally, there is a wider range of investment opportunities in various sectors, from agribusiness to tourism and urban development.
Bilateral commerce and trade
Argentina, as Malaysia, is a multicultural country that has successfully integrated different peoples, religions and traditions. Our bilateral commerce is strong and still has many possibilities to be diversified and increased. In 2016-2017 we saw our bilateral trade growing again and we hope to continue in this positive path.
Having reached our exports to Malaysia a peak in 2012 of 989 million USD dollars, from there we register a slowdown both in volume and price that, in 2015, already represented a decrease of more than 10%. However, in 2016 the Argentine sales start growing strongly again, allowing, for the first time, to exceed the values of 2012.
During 2016 and 2017 the pattern of Argentine exports to the Malaysian market were kept on a small number of high concentrated products. The five principal ones comprised 96% of the total exported to this market, similar to the 96% recorded in 2015. These products are basically manufactures of agricultural origin (oil cake and oil cake of soya bean, corn, soya oil, sunflower oil and seafood), where imported volumes evolve according to the requirements of the Malaysian economy. The first product continues to be soybean meal, which comprises almost 42% of the five main products exported, although its predominance is reduced compared to 2015.
In 2017, Malaysia continued to position itself as the third market in ASEAN countries for Argentine export goods, being only surpassed by Vietnam and Indonesia. Compared to the other markets of the sub-region, Malaysia continues to present itself as a stable and consistent country for our exports.
Currently we are trying to diversify our exports to Malaysia, promoting products with a higher added value, such as honey, mineral water, olive oil, wine and spirits, snacks, candies, organic and gourmet products, cereals and, of course, halal products, mainly our world renowned beef. The Embassy of Argentina in Kuala Lumpur is working closely with the Malaysian authorities of MITI, JAKIM and HDC to make progress on these issues.
As a result of these exchanges, we realized the potential that exists in working together in the halal industry. Not only on beef production, as mentioned, but also in the wide range of products that are included in this important and growing sector. Argentina, as one of the major food producers in the world, can be Malaysia´s ideal partner, by creating a pole of halal production in Argentina to export these products not only to Malaysia, but also to many other Muslim countries.
We are also very proud of our flagship argentine company IMPSA, present here in Malaysia for the last 20 years. They manufacture and export hydro turbines, cranes and wind generation components. Through its successful participation in the Bakun Dam, IMPSA has transferred technology to its Malaysian subsidiary and its subcontractors, trained hundreds of Malaysian engineers and technicians in different fields and implemented a Vendor Development Program that benefited more than 300 companies and thousands of people in this country. IMPSA, now a Malaysian joint venture called IMARTEK, has been investing over 100 million USD for the past 10 years, becoming the only State-of-the-Art Capital Goods manufacturing company in South East Asia for these type of equipment.
Another recent highlight was the opening of a commercial office by PETRONAS in Buenos Aires, and the signature with YPF, our National Oil and Gas Company, of the second phase of the mutual agreement for the exploration of shale oil and gas in the Province of Neuquén, in Argentine Patagonia. The project comprises three phases with a total disbursement of 500 million USD. PETRONAS is also interested in extending its presence in other areas in Argentina. A good example of this, is the recently inaugurated car lubricants and fluids plant in the Province of Buenos Aires, with an investment of approximately 300 million USD.
We are very proud to witness this strategic association between our two National Oil and Gas Companies.
Also, in an effort to boost business relationship with Latin American countries, the Ministry of International Trade & Industry (MITI) – along with its agencies MATRADE and MIDA and the Latin American Embassies in Kuala Lumpur, organized an important event on trade and investment that took place in Kuala Lumpur last year.
The Business Day presented an excellent opportunity to enhance commerce, trade and investment between Malaysia and Latin American countries, and to organize more Public-Private Partnership programs.
There are indeed many interesting possibilities for Malaysian companies, and investment groups, to export to our country or establish partnerships with counterparts in Argentina to develop business. We import from Malaysia basically latex gloves, parts of computers and cell phones, electronic integrated circuits, coconut and palm oil, machinery and clothing, but these items could be extended to others such as tropical fruits, auto parts.
Argentina and Malaysia have been strong political and commercial partners for more than 50 years. We share essential values and have the same vision on many of the main problems that are affecting Humanity in the 21st Century, such as the fight against drug and human trafficking, climate change, migrations and the combat against terrorism.
We also share common values of respect of international law and the promotion of fair rules in commerce and trade, and we strongly believe that the only way to improve the quality of living of our people is by generating greater and better employment opportunities. And this can be only achieved by increasing trade and productive investments. So that is precisely our challenge in the years to come.
---
Contact Details
Embassy of Argentina
Suite 16-03, Menara Keck Seng
203, Jalan Bukit Bintang
55100 Kuala Lumpur
Tel: 603-2144 1451 / Fax: 603-2144 1428
Email: comercial_emsia@mrecic.gov.ar