MARDI Essential Oil Distillation Systems: A Large-Scale Extraction Technology For Producing Flavour And Fragrance Materials
---
Article by:
Dr. Norma Hussin
Senior Research Officer
IC – Industrial Crop Research Centre
MARDI Headquarters
---
The Essential Oils
Most of the aromatic crops contain aroma subtances in the plant cells and, its normally known as essential oil. These aroma materials can be derived from plants and animal parts that have been used since many decades by global flavour and fragrance (F&F) industries to produce flavours, essential oils, concretes, absolutes and perfume materials. Essential oils are the famous ancient materials especially for producing perfumery, medicines and aroma materials; and starting in year 1930, a new era of aroma chemical material is manufactured, synthesized and fractionated from aromatic substances. Nowadays, essential oils are very important in our life-styles and wellness; and most of the essential oils can be used as value added in the F&F blending as speciality aroma in foods, beverages, confectioneries, traditional medicines, nutraceuticals, cosmeceuticals and even pharmaceuticals.
Essential Oil Notes as an Arts of Perfumery Blending
Perfumery is an art of blending; it is a combination of aroma notes known as top, middle and base notes (Table 1).
Table 1. 

Natural aroma materials and note classifications
Essential Oils/

Aroma Materials

Perfumery Notes

Limes

Top notes

Oranges

Top notes

Citronella

Top notes

Ylang-ylang

Middle notes

Roses

Middle notes

Jasmine

Middle notes

Patchouli

Base notes

Sandalwood

Base notes

Vertiver

Base notes

Agarwoods

Base notes
Most of the citrus materials presenting a high aromatic essential oil that are classified as top notes. Meanwhile floral materials presenting a mild aroma volatile and classified as base notes. A long-lasting aroma material that can contribute for a long-lasting aroma with a characterising of deep, strong balsamic and woody are commonly contributed by woods and some leafy parts. They are usually produced by agarwoods, sandalwoods, cedarwoods, patchouli and vertivers and having a strong perfumery note as base notes. Patchouli is a base note and act as fixative material in the perfumery. Natural and aromatherapy perfumes can be formulated and designed by perfumers by combinations of these three notes (base, middle and top notes) with a master skill to present a harmony aromatic perfumes or aromatherapy blending.
Patchouli Essential Oil
In Malaysia the most unique and valuable aromatic crops are Patchouli, locally known as Nilam. Dried patchouli plants are traditionally used in the past by Malaysian and Indonesian to protect batik or clothes in the cabinets from insects besides giving aroma to the clothes. The Patchouli is an aromatic herb contains essential oil and having a very unique and natural aromatic derived from its essential oil substances. Patchouli essential oil (PEO) is one of the most popular perfumery materials and perform high demand in world-wide trades as fixative materials for fragrance and cosmetic formulations. PEO is very unique and its chemical components cannot be synthesized. PEO is suitable for a masculine perfumery ingredient and possesses a fixative material in the perfumery blending. Patchouli has been suggested by Malaysian Agricultural Research and Development Institute (MARDI) for farmers and entrepreneur programmes due to its essential oil is highly expensive and high demand in global for flavour and fragrance (F&F) industries.
Helping Farmers and Industries
Malaysia is currently focused in planting aromatic crops for helping farmers and industries for these new sectors of manufacturing of flavour and fragrance (F&F) products. However, the cost of productions is higher than Indonesian and Thailand essential oils. In this case, some affords are focused for business plans such as conducting courses and training several farmers, entrepreneurs and industries in producing essential oil base products such as aromatherapy, soap, bath gel, shampoo, cosmetics, perfumery and insect repellent products.
Essential Oil Plants
In Malaysia, essential oil distillers are locally built for specific industrial production needs and specialty ingredients. In Table 2, some of the distiller type and location of essential oil distillers are scattered in Malaysia. Besides distillers, there are many types of high-tech systems are set-up for processing aromatic extracts that can be found in MARDI, FRIM, universities and private companies such as fractionation systems (molecular distillations), agarwood conventional distillers, vanilla extractors, sub-critical gas extractors, and supercritical CO2 extractors found in Malaysia.
Table 2.

Lists of Essential Oil distiller and Extractor in Malaysia
| | | |
| --- | --- | --- |
| Distiller type | Locations | Essential oil/aroma materials/extracts |
| Steam distillation | MARDI Station at Kuala Linggi, equipped with 10 units of 100L Industrial scale and a batch type hydro-distillation of 100L scale. | Various aromatic crops(1) |
| Steam and hydrodistillation units | MARDI Headquarters Serdang, equipped with 2 units of 300L Industrial scales and a batch type hydro-distillation of 100L scale. | Various aromatic crops(1) |
| Hydrodistillation | Industrial crop research centre, MARDI Serdang Selangor | Agarwoods, leafy and floral types |
| Steam distillation | Forest Research Institutes Malaysia, FRIM | Various aromatic crops |
| Steam distillation | Universities (IBD-UTM, UMP and other universities) | Various aromatic crops |
| Distillation | Melaka Biotech, Melaka | Various aromatic crops |
| Hydrodistillation | Kedai Agarwood Sdn. Bhd. Pahang equipped with 10 rounded semi-vessels of 12L hydrodistillation system. | Agarwoods |
| KKTM, Lenggong, Perak | A modern distillation system | Various aromatic crops |
MARDI Industrial Scale Essential Oil Distiller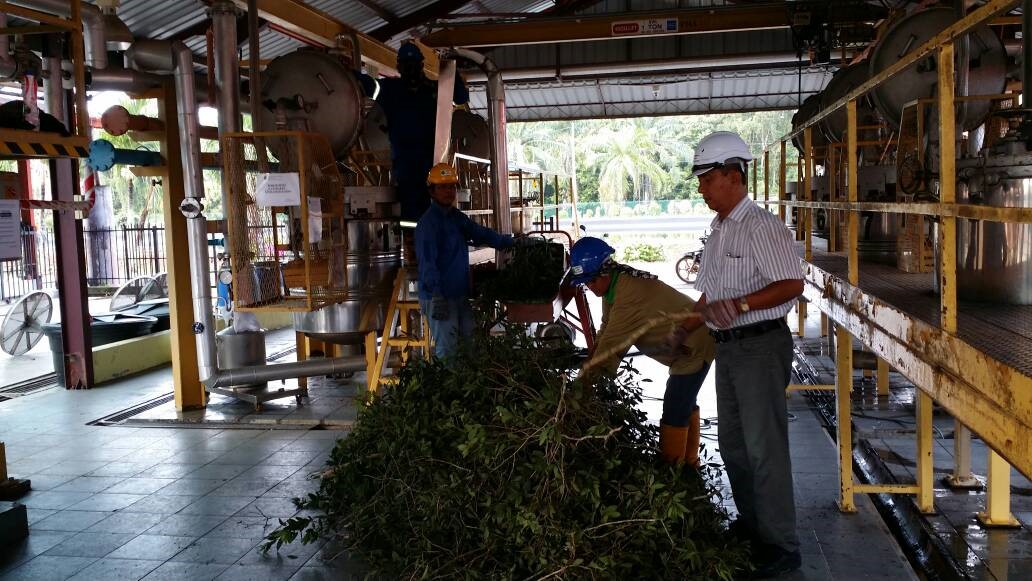 The local essential oils are produced using an industrial scale steam distiller system (Essential oil incubator) located at MARDI Station Kuala Linggi, Masjid Tanah Melaka, Malaysia.  A Standard Operation Procedures (SOP) for essential oil productions of Patchouli (Nilam), Lemongrass (Serai makan), Citronellal (Serai wangi), Cinnamon (Kayu manis), Lemon myrtle, Kaffir Lime (Limau purut), Kasturi lime (Limau Kasturi) and other aromatic crops are successfully established by MARDI (See Table 3).
Table 3.
List of the essential oils and aroma materials produced by MARDI
| | | |
| --- | --- | --- |
| Essential oil (1) | Selected Aroma Marker | Perfumery notes |
| Cinnamon leaf oil | Cinnamic aldehyde, Eugenol | Middle note |
| Citronella oil | Citronellal and Geraniol | Top note |
| Lemongrass oil | Citrals (Neral and Gernial) | Top note |
| Ylang-ylang oil (a) | Linalool | Middle note |
| Jasmine (b) | Linalool | Middle note |
| Gaharu (c) | Sesquiterpenes (Agarospirols, hinesols etc.) | Base note |
| Lemon myrtle | Citrals(Neral and Gernial) | Top note |
| Kaffir lime | Citronellal and limonene | Top note |
| Nilam (Patchouli) | Patchouli alcohol and other sesquiterpenes | Base note |
a  Distillation process using a10L aluminium distillation vessel (lab scale)
b  Concrete and absolute materials (lab scale)
c  Essential oils and resinoids (lab scale)
Citronella, Nilam and Lemon myrtle (as speciality industrial crops) are the most popular crops and farmers should be followed the Standard Operation Procedures (SOP) as recommended by MARDI.
Essential Oil Products
Essential oils can be added as natural fragrance materials into several wellness, Spa and food products as follows:
a. Blended aromatherapy,
b. Aromatherapy perfumes,
c. Fine fragrances,
d. Soap,
e. Bath gel,
f. Shampoos,
g. Massage and Spa Products,
h. Cosmetics,
i. Insect repellent,
j. Foods and Beverages, and
k. Confectioneries
---
MARDI Headquarters
Malaysian Agricultural Research and Development Institute (MARDI) 
MARDI Headquarters 
Persiaran MARDI-UPM 
43400 Serdang 
Selangor 
Tel: +603-8953 6000 
Fax: +603-8953 6011
Email: enquiry@mardi.gov.my 
Website: www.mardi.gov.my
Contact of Dr. Norma Hussin
Senior Research Officer 
IC – Industrial Crop Research Centre  
MARDI Headquarters
Tel: +603-8953 6000 Ext. 6234 
Email: normahus@mardi.gov.my